Formula E Finale at Battersea Park
The Formula E finale at Battersea Park in London will soon take place. As the end of Season 2 approaches, anticipation grows for the final race.
In Formula E Season 1, Sebastian Buemi was the favored driver. He missed the title by a narrow margin though, and Nelson Piquet Jr. became the crowned champion.
Buemi vs Di Grassi
As Formula E wraps up its 2nd season with the Formula E finale at Battersea, the heat is on between the top two contenders, Buemi and Lucas Di Grassi. Though Buemi had a strong start, Di Grassi has steadily climbed to present a formidable challenge and a thrilling Formula E finale.
Will Buemi secure the title he narrowly lost last season? Or will Di Grassi steal it away? The final race is set for July 3rd. Tune into Formula E or make your way to Battersea Park in London to watch it unfold.
Official Standings of Formula E
Here are the standings of Season 2, taken from the official Formula E site: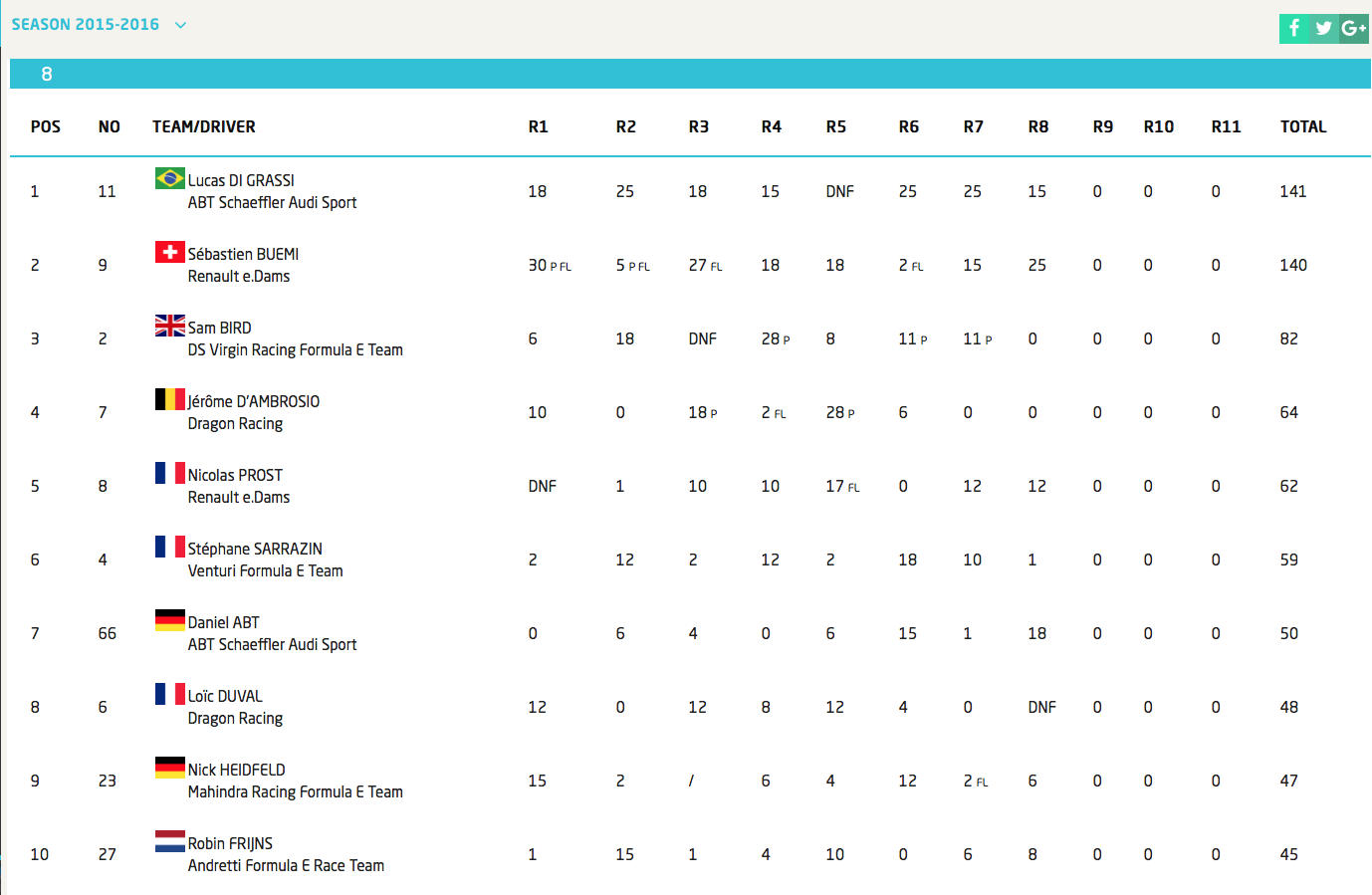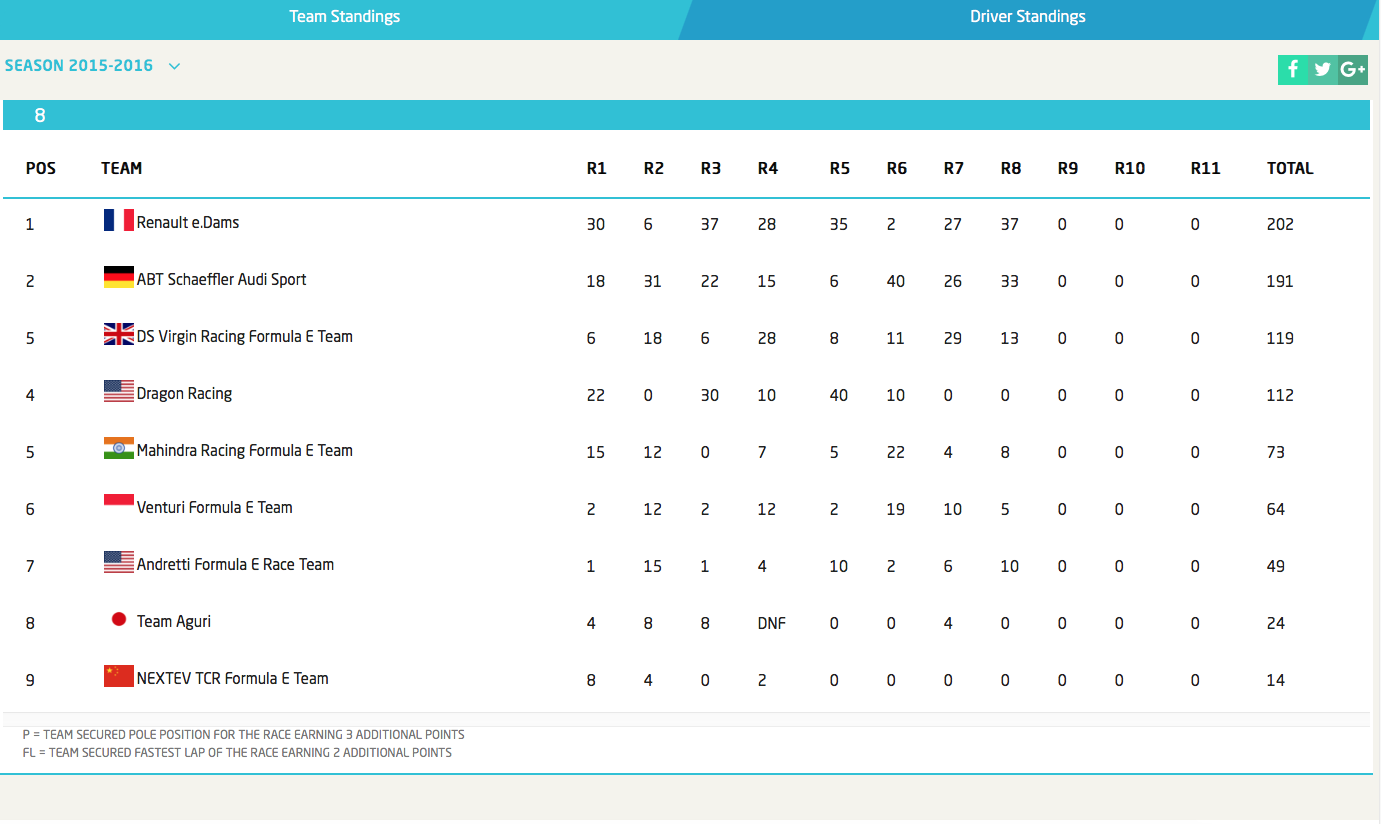 Update: Buemi Wins The Title
In a very eventful final race, Buemi managed to win the title. See the official FIA Formula E press release.
Formula E Sustainability Overview
Taken From Formula E's official site:
Sustainability at FE
The concept of sustainability for Formula E is to reduce our footprint  as much as possible and have a positive impact on both people and the planet. We are not just a race! We are a technological and sustainable development test bed for some of the leading companies in and out of motor racing to address mobility and environmental issues.
Formula E is the World's first all-electric single seater racing series. Delivering entertainment on four continents, we reach a broad audience in an innovative way, inspiring generations to adopt electric vehicles.
Through the FIA Formula E Championship, our Legacy Programmes and the research, development and promotion of sustainable mobility, we address important environmental issues, offer solutions to air quality concerns in city centres and promote the use of renewable energy to a global audience.
We aim to accelerate innovation in electric vehicle technology, stimulate governments to develop infrastructure and showcase how electric vehicles will revolutionise everyday transportation through unprecedented and exciting urban entertainment.
With the guidance of DHL, our race calendar has been established on a circular basis to quickly and efficiently transport the race equipment around the world and keep our footprint in terms of freight as low as possible.
We race in the heart of the city, bringing the race to our spectators and encouraging walking and the use of public transport.
Our smoke-less and noise-less car batteries are powered by a 0% emission and renewable glycerine fuel.
The unique tyres specially designed by Michelin, are suitable for all weather conditions and last the entire race day. The real winner is that they are all recycled.
Formula E marks the beginning of a new era, it is the start of the future for electric and environmentally conscious racing. We strive to become the first carbon-neutral motor sport championshipin the world.
As a team of passionate dreamers we work together as ambassadors of the Formula E values with the belief that perceptions will change for the better.
Education – We are committed to giving back to the communities that host our events by giving everyone an opportunity to access our knowledge and experiences. By being inclusive, we believe that we can learn and grow together.
Energy – This is central to our activities from powering our cars with clean and renewable sources to the dynamism that defines our people. Our wish is to inspire and excite everyone who attends our events.
Environment – Having sustainability in our hearts, we aim to make a lasting contribution to mobility as part of the development of smart cities. With a commitment to fighting climate change, WE DRIVE OUR FUTURE.
Entertainment – This is the true core value of what we do. Our passion to amaze and excite enables us to challenge conventions.